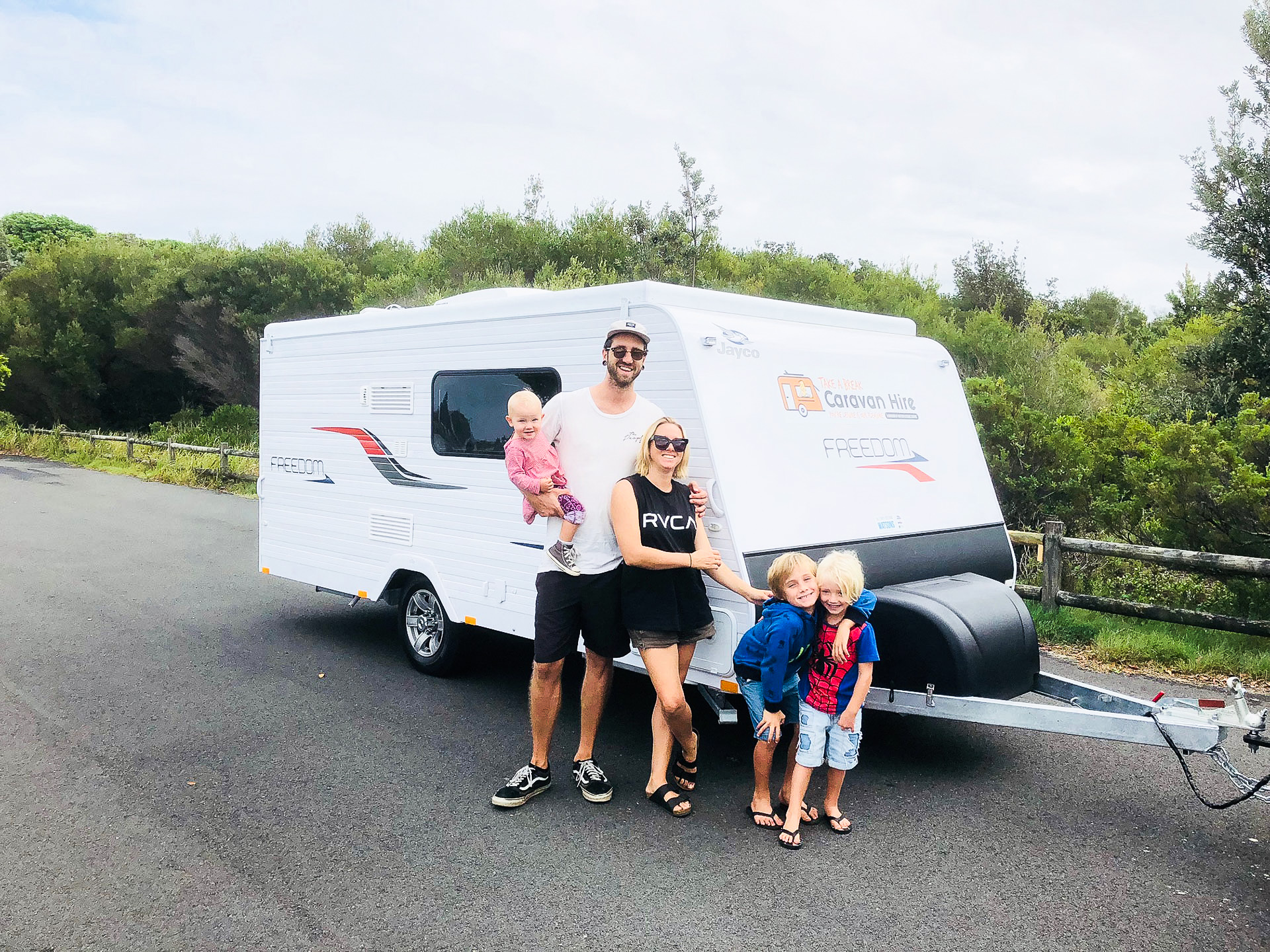 For me, camping can be so many things. I've been camping with mates in the dunes before early surfs where all we needed was a sleeping bag and a fire. I've been camping with my now 6 year old, small tent and a hand reel, and that was plenty. These days, with 3 kids, it's changed to be a whole league of its own – hence the need to hire a caravan!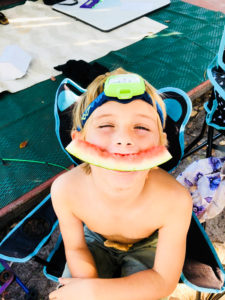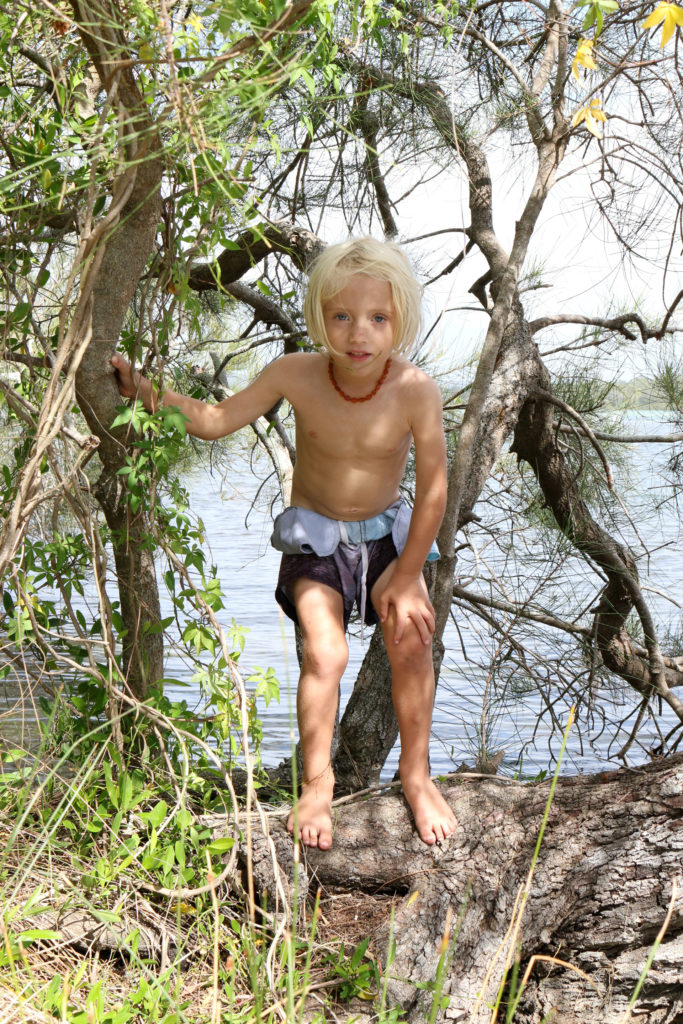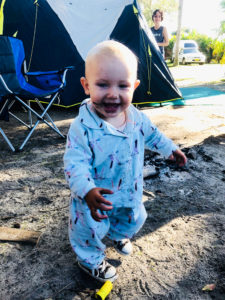 I've got 3 kids – Pheonix, my fearless yet sensitive 6 year old, Brax, my precious yet unexpectedly extroverted 4 year old and Bliss, my heart stealing Miss Independent who is 1 and a half years old. Together they are loud – really loud, too loud for a caravan park, but we're learning to embrace that. But you'd be surprised how many people around our camp sites comment on how much they love to hear the kids having fun. We once camped at Corindi Beach Caravan Park in my dads old pop top we'd recently bought (and much sooner sold when we quickly outgrew it). We had to have been the youngest family, with the messiest campsite being the loudest never-ending party in the whole caravan park. We thought our closest neighbours had been giving us dirty looks the whole time, only to have them come over on their way out and tell us how much they'd enjoyed watching our little family and that is was great that we were camping with the kids. It was so nice to hear and it really made our trip.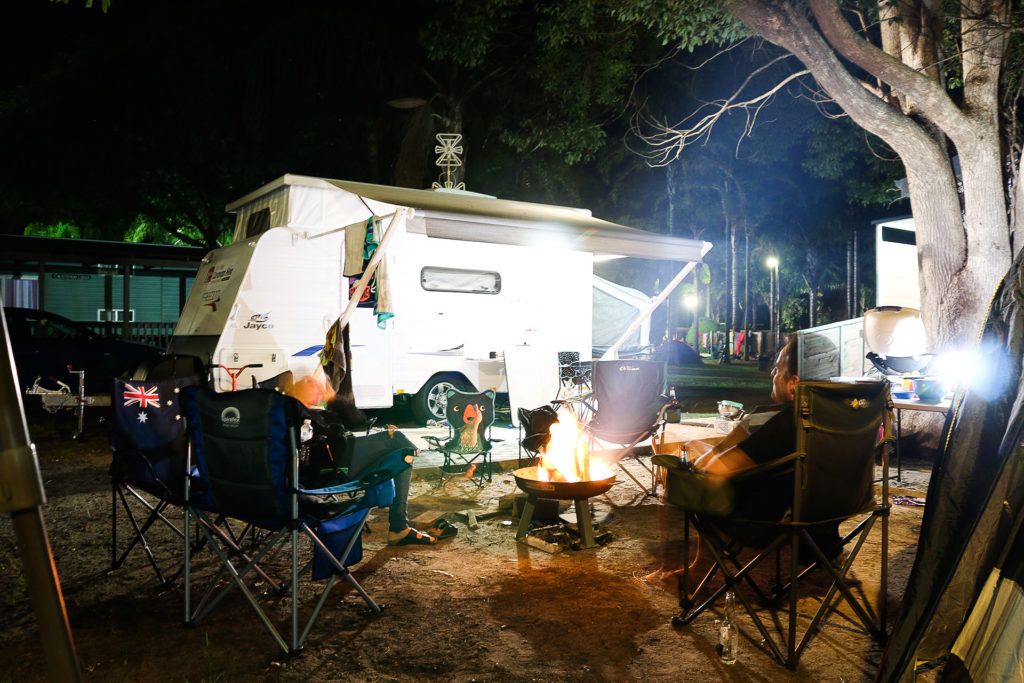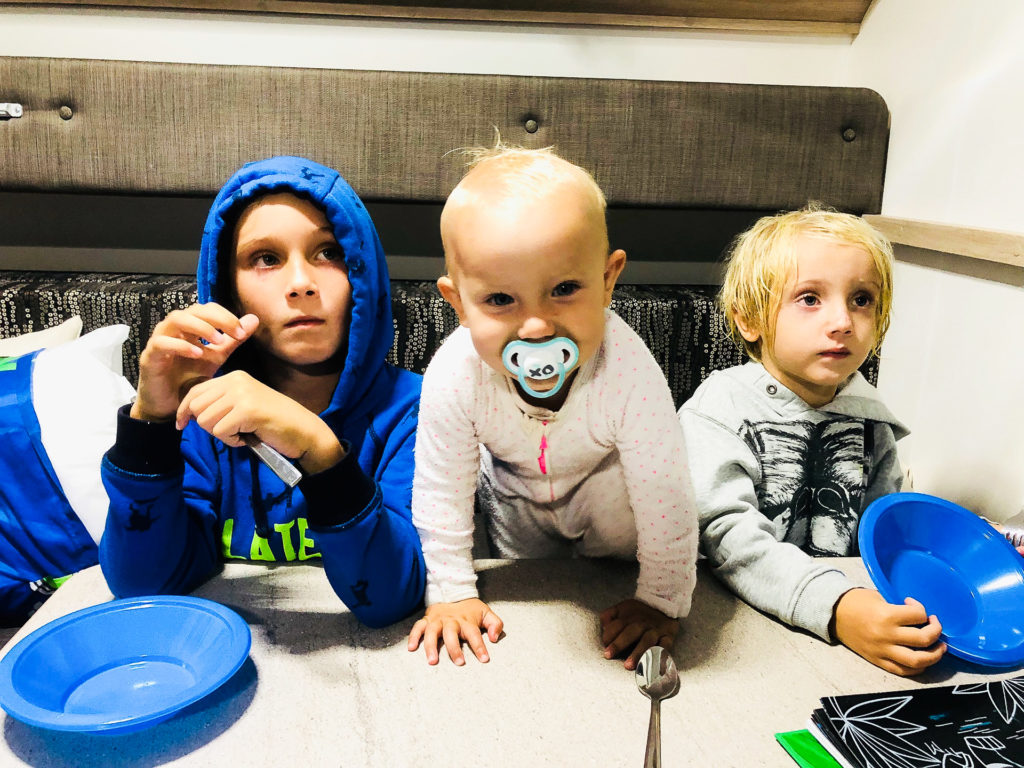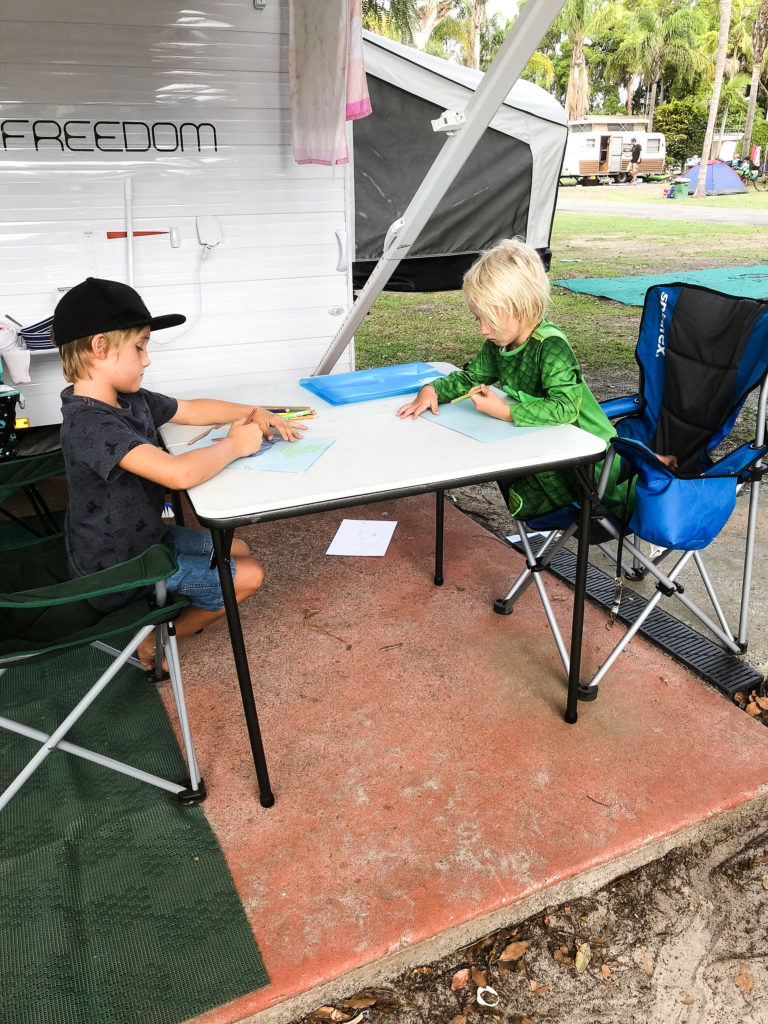 The kids love our camping adventures, even as short as they have been, they're just so excited to be on the journey. We're not one to go on big family holidays, we've never really invested in holidays so camping suits us just fine. We've actually never been camping for longer than 3 nights, mostly due to my work, our lack of planning, the fear of the dreaded tent set-up and our desire to be spontaneous (a cheap thrill for a parent). But since camping in a caravan, I now completely understand the investment! However, the appeal of hiring a caravan in the first place was that we couldn't afford to buy a decent caravan at this stage of our lives. Hiring a caravan was a win-win for us.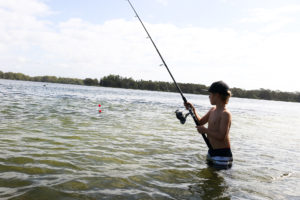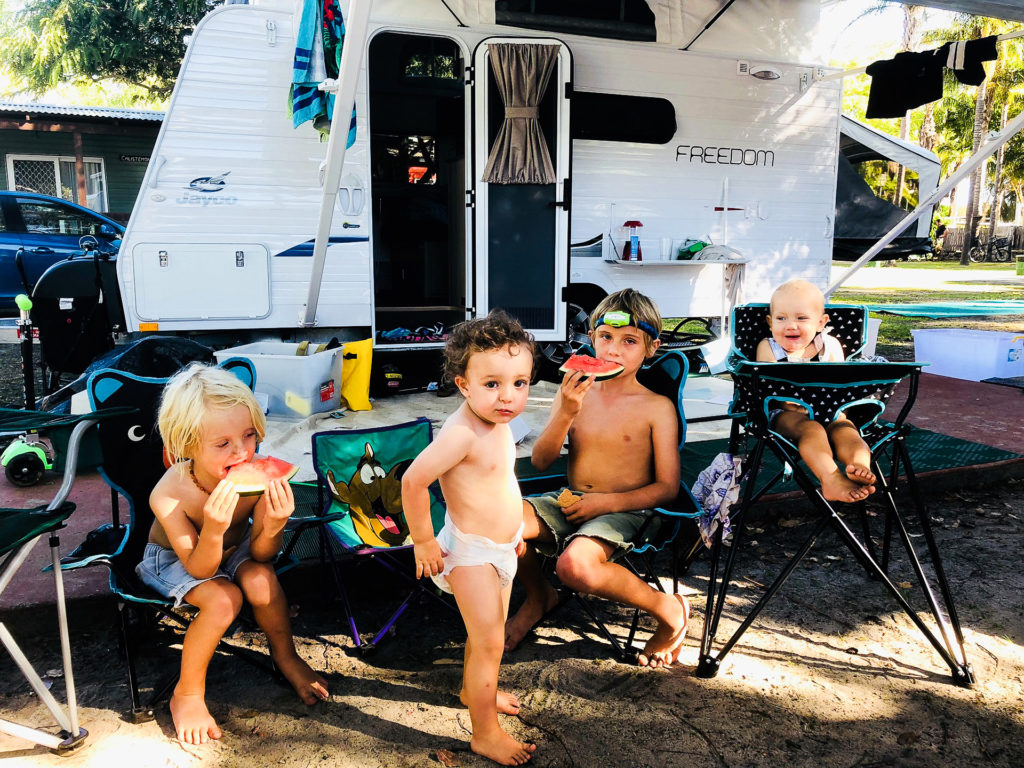 We hired the Jayco Freedom Pop Top 14-4 which was heaven. These are the new range of simplified caravans with the basics of what you need without having to pay for the frills. They're worth about $40k brand new, which is actually really cheap compared to any new caravan of its size. When you've only ever camped in a car, tent or a 6×8 pop top the standard is set pretty low, but it really was such a nice caravan that was perfect for us. We drove down the coast to Lani's Caravan Park in Forster where we had a powered ensuite site and a slab to put the caravan on.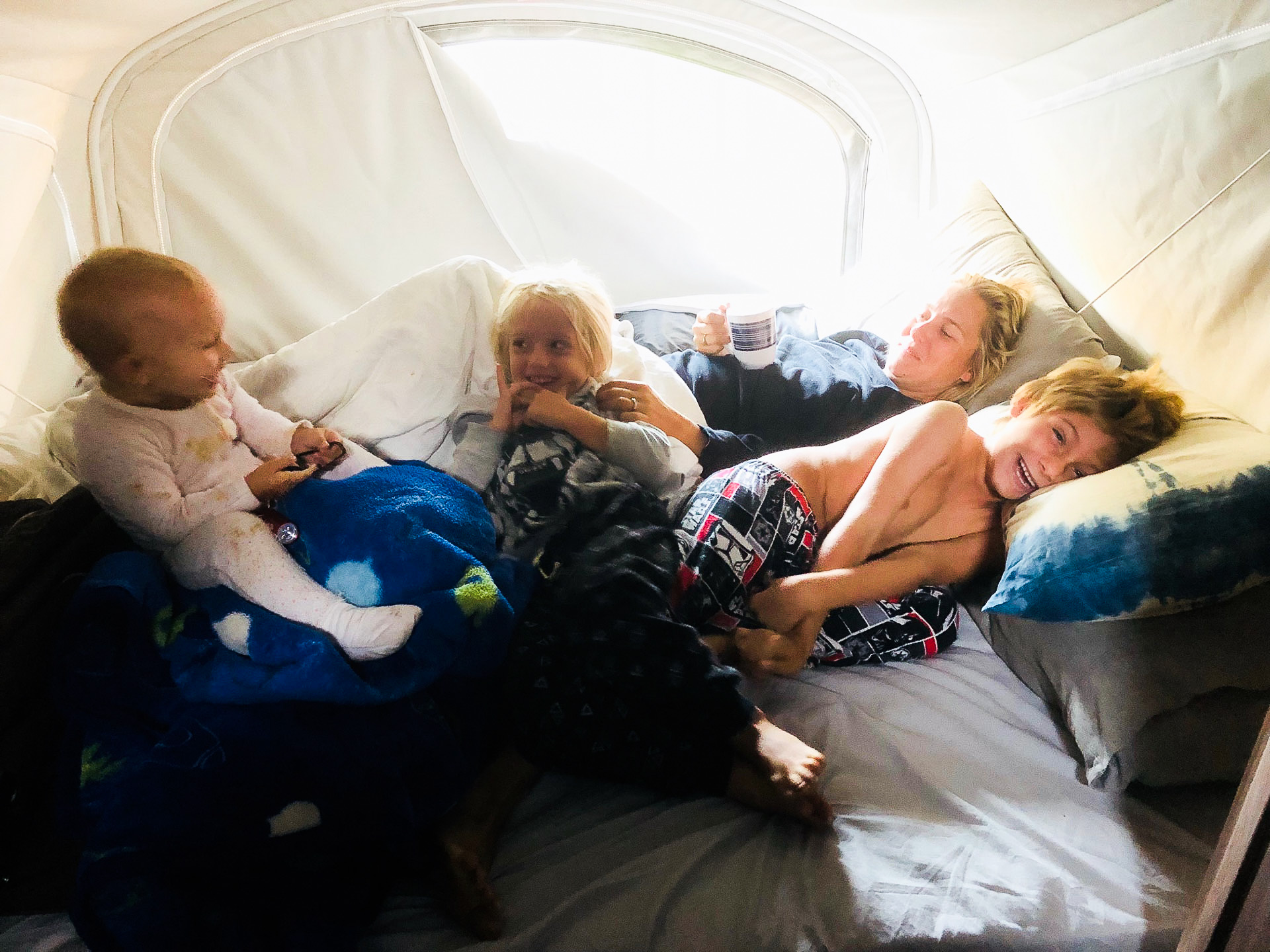 There was a bunch of highlights to the Jayco Freedom Pop Top for me including:
Fit for a king… or a giant – Having a clean double bed to go to at the end of the night is priceless. I am 6 foot 6 and still had a great night sleep so it gets my giant nod of approval.
Kids beds – As usual, the table dropped down to make a bed. It was that this ran along the other bench seat that made this even better. Heaps of room for them to squirm around in. There was even a bunk bed above this that we didn't even use but it was good to know we had even more room if we'd needed it. Eventually, this bunk would be perfect for Bliss when she grows up.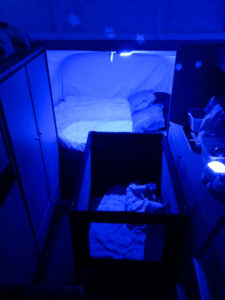 The ultimate baby friendly caravan – By far the greatest thing that has happened in my camping career – our portacot fit inside the caravan! A full-sized portacot (not a compact camping one that looks like a small cage) was able to be set up in the middle of the caravan, right next to our bed. It even had room to get past. Having a one and a half year old stomping around the dirt of the site, nearly missing the fire, eating everything she picks up and wondering off is exhausting to say the least. It was so nice to know that once she was asleep, I could put her in the portacot and relax knowing she wasn't going to walk out the door any minute.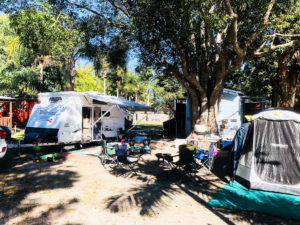 Heaps of wardrobe space, what looked like too much really, actually turned out to be so convenient to have a home for our stuff that was dry and clean. Much nicer than living out of plastic tubs.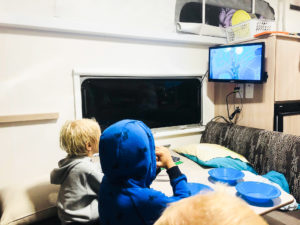 Guilty pleasures – For those of us that haven't owned or spent heaps of time in a caravan, it's the little things that make the difference. Running water, a sink, power, light! At times it felt greedy to have it so good. Maybe it was the fact that we had met Sydney friends there and they were in a tent next to us without these luxurys that made us a feel slightly guilty.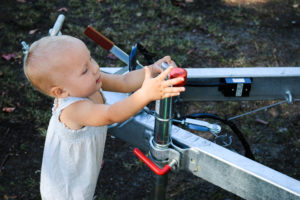 Towing like a boss – now I will admit, I did cheat a little with my towing car. I don't actually own a car that can tow, another good reason to not buy a caravan any time soon! I've been known to borrow a friends run down Commodore, but not this trip. A good mate was kind enough (and game enough) to lend me his Landcruiser Sahara. Obviously, a car like that can tow anytime so I was already off to a good start. But the Jayco Freedom Pop Top was so easy to tow, to park, to reverse with and I'd happily tow it with a much smaller car. Parking the van over the slab was something I hadn't done before but it was easy enough to do. Even managed to reverse the caravan into a good enough position, unhook the car and push it into the right spot.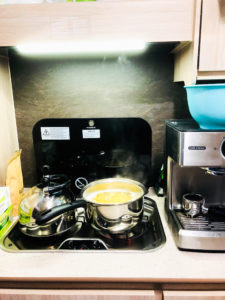 Packed and ready to go – the caravan came packed with everything we needed from cups & cutlery, to tables & chairs. It's quite the feat to get the family packed for a camping trip so to not have to worry about the extra stuff made it that much sweeter.
Picking up the hire caravan was as easy and less daunting as I thought. The caravan was ready for me to go and because I'd not towed something this big before, I got a quick but thorough run over the do's and don't. There is a lot to know about towing so it was reassuring to get such great advice from the team at Watsons Leisure Centre. The caravan itself also had a bunch of tricks and tips I needed to know for when I arrived at my site. They gave me a good rundown of all of this too, from how to erect the annex to how to work the fridge (surprisingly more involved than you think). Driving out of Watsons Leisure Centre with the hire caravan attached and the open road ahead is a great feeling – being confident with it made it even sweeter.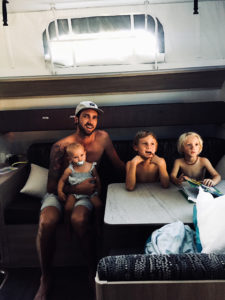 Returning the hire caravan was even easier than the pickup! The caravan came with all of the cleaning gear we needed to stay on top while we were camping like a broom & cleaning products. So when it came time to pack up camp and return the caravan, we did our best and the Watsons team were happy to take it off our hands and finish the job. A nice change from having to dry out the tent when you get home!
My memories of camping as a kid are cold, wet and I was somehow allowed to walk around with a tomahawk hacking at trees. If we were lucky there was a public toilet, otherwise a drop toilets or somewhere out of site was enough. I'm trying to give my kids these same experiences but unfortunately, to do that, I have to squat myself. So they might not get the same 'rough it' experiences I got as a kid, but we're just happy to make their own memories.
Overall, we couldn't have been more happy with our decision to hire a caravan. It meant that we could enjoy our holiday without the extra stresses that come with not being prepared. It was also a great way to test out a caravan before we bought one. I'd recommend anyone looking at buying a caravan to test one first so you can get an idea of what you do and don't need. We're already going to book another caravan for our next holiday.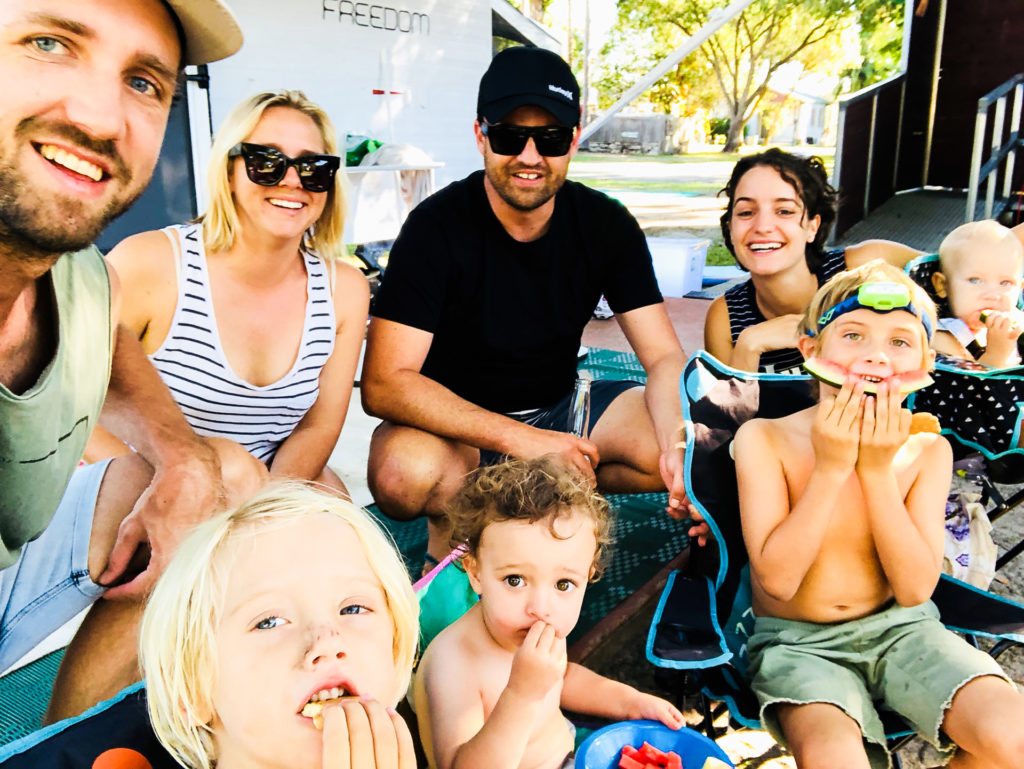 A huge thanks to the Watsons Leisure Centre & Take a Break Caravan Hire team!